Paul Bame
Broadcast & Applications Engineer
pbame[at]prometheusradio.org
ext 2
Paul got hooked on Grassroots Radio by listening to Boulder's KGNU in the mid 90's. That also led him into activism for global economic dignity in the "Seattle-era" street movement. Along the way he also stood against police brutality, for an end of racism toward Native Americans and others, an end of media bias including that at NPR, of discrimination and dehumanization aimed at women, LGBT, and undocumented immigrants. When he co-founded Grassroots Radio station KRFC between 1997 and 2003, he also co-founded its news collective.
After chatting with Prometheus at Grassroots Radio Coalition conferences for a decade or so and leaving his Fortune 100 R&D job, Paul volunteered at Prometheus in 2010 and is currently our nerdiest engineer. His electrical engineering degree and ham radio experience comes in handy for FCC application engineering, station design, construction and troubleshooting.  Paul also created and maintains the free-to-use RFree software to make application engineering easier.
Paul sometimes gets pulled into into technical FCC policy analysis and commentary, where his activist experience helps in deciphering federal legalese and his interest in data analysis and presentation has provided supporting arguments.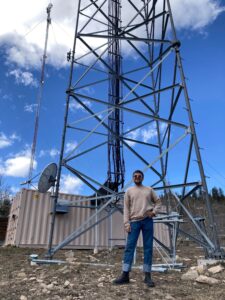 Will Floyd
Broadcast Engineer & Operations Specialist
wfloyd[at]prometheusradio.org
ext 3
After diving into college radio at WOBC in Ohio, Will joined Prometheus in 2012 to assist grassroots organizations applying for LPFM licenses in the 2013 application window. Since then Will has travelled extensively working as a broadcast engineer, building LPFM stations around the US, and has served in programming and operations roles in public media including at Marfa Public Radio and Santa Fe Public Radio. Will is a co-founder of KMRD-LP in Madrid, New Mexico and operates a company called Field Effect that provides broadcast technology services, project management, and studio and transmission facility construction in Texas, New Mexico, and the Southwest.